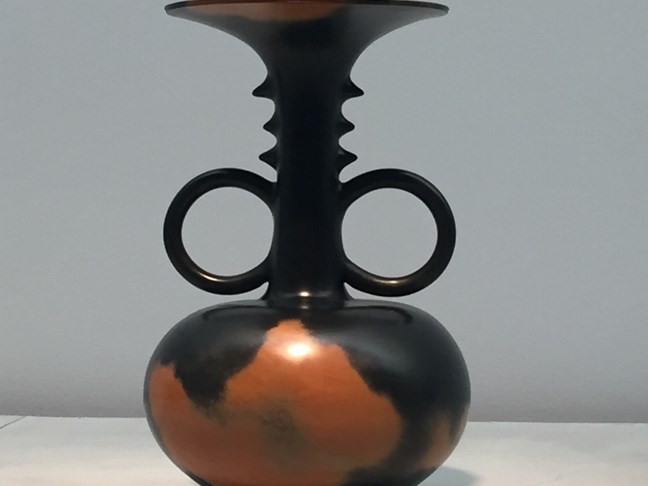 Image: Black and orange burnished jar by Odundo
This show charts ceramic artist Magdalene Odundo's 40-year-plus career through her own work and particularly her relationship with other objects. More than 50 of her pieces are complemented by a large collection of ceramics, photographs, paintings, textiles and sculpture. They span 3000 years and include pieces by luminaries such as Edgar Degas, Barbara Hepworth and Henry Moore together with ancient Greek vases, Kente cloth from Ghana and other works by unknown artists.
Looking at objects, often in museums, has played an important role in Odundo's education, thinking, and artist practice. Her selections for this exhibition highlight her interest in dance, spirituality, the female form, vernacular crafts, cultural heritage and community. Her choices also lead to some fascinating juxtapositions across time and cultures. Clearly the object itself is paramount in Odundo's vision of the world. Odundo believes that `through making objects we make and write our history, the history of the human race.'
Her own signature black and orange burnished pots with their curvaceous centres and elongated necks are not a direct take on the objects she studies. As she says, `I draw nuances, I abstract notions and feelings from what I am looking at and try to think it out when I'm making.' Her `Journey of Things' allows us to explore these nuances, notions and feelings.
The exhibition is at the Hepworth Wakefield, West Yorkshire until 2 June, then the Sainsbury Centre for Visual Arts, East Anglia University, Norwich from 3 August to 15 December. For more details, visit the Hepworth https://hepworthwakefield.org/ and Sainsbury Centre https://scva.ac.uk/  websites.