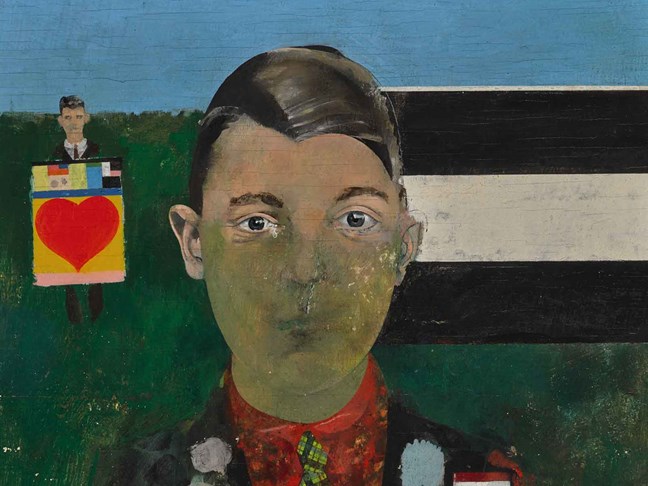 Image: Boy with Paintings, 1957-9, oil and enamels on wood by Peter Blake, Pallant House Gallery. © Peter Blake
Curator, collector and DAS trustee patron Muriel Wilson helped to introduce British art to the world during the 20th century. An important early Peter Blake painting from her collection is currently on show at the reopened Pallant House Gallery in Chichester. Other artists represented in the exhibition `A Life in Art: The Muriel Wilson Bequest', continuing until 29 November, include David Hockney and Eduardo Paolozzi.
Also at the Pallant, `Barnett Freedman: Designs for Modern Britain', turns the spotlight on one of Britain's most sought-after commercial designers in the mid-20th century. He designed 'The King's Stamp', a postage stamp to commemorate the Silver Jubilee of HRH King George V and was also an Official War Artist in World War Two. His work ranged from the book covers for Tolstoy novels to Guinness prints for pubs and he has a lasting legacy in British book illustration, printmaking and graphic design.
The exhibition, until 1 November, is the first major reappraisal of Freedman's work since 1958. It coincides with the display `An Outbreak of Talent: Bawden, Marx, Ravilious, and their Contemporaries'. This celebrates a generation of artists who studied together at the Royal College of Art under Paul Nash in the 1920s, also including Barnett Freedman.
For more details, visit the website https://pallant.org.uk/