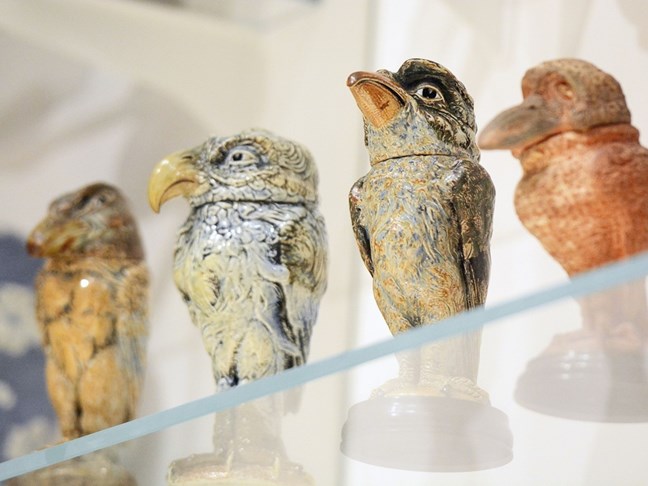 Image: Martinware ceramic Birds on display at The Box. Photo by Wayne Perry. ©The Box, Plymouth
The Box, a multidisciplinary arts and heritage space, opened to the public at the end of September. A new structure of glass and mirror tiles joins three historic buildings, the former Museum and Art Gallery, Central Library and St. Luke's Church to create a new cultural centre with 13 new galleries and exhibitions spaces, learning and research facilities and a brand new public square.
The Box opens with three major exhibitions including `Mayflower 400: Legend and Legacy', which commemorates the 400th anniversary of the Mayflower's journey across the Atlantic. Nine permanent galleries will showcase The Box's diverse and extensive collections including painting, drawings, prints, sculpture and ceramics. The ceramics collections includes a notable collections of over 100 pieces of Martinware from the collection of Sydney K Greenslade. Greenslade, a Devon architect, was an early champion and friend of the Martin Brothers and advised and steered the activities of their studio.
Last year a grant from the DAS helped The Box secure an exceptional work by the Martin Brothers, The Crab, a massive anthropomorphic sculpture, to enhance this important group and prevent it from going abroad. Now The Box is finally able to open its doors, the public can see this exceptional work, purchased in February 2020, together with all The Box's other treasures.
For more details, visit the website https://www.theboxplymouth.com/