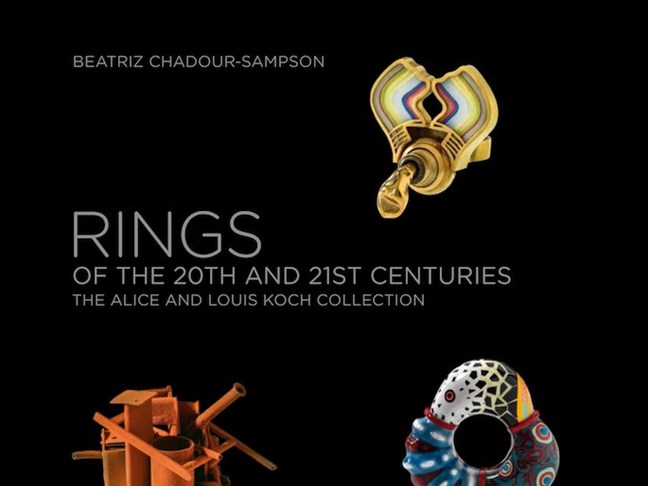 This attractive and impressive volume shows the 589 modern rings in the Alice and Louis Koch collection. Started by successful Frankfurt jeweller Louis Koch (1862–1930) and his wife, Alice (1866–1937), it contains almost 2600 rings spanning 4000 years of history. Chadour-Sampson, curator for 35 years, has advised the current generation of the Koch family in their acquisition of 20th- and 21st-century rings. (Two volumes published in 1994 presented 1980 historic rings from the collection.)
Some rings are now on permanent display in a striking, ring-shaped display case in the Swiss National Museum, Zurich. However, anyone can experience the collection in beautiful technicolour thanks to the astonishing photography of this book.
Most of the text is in both English and German. The volume begins with a section entitled, 'Art Nouveau and Art Deco until 1945', comprising a brilliant short essay and then rings from European designer makers. Silversmith Leslie Durbin made one unusual ring, concealing a tiny lipstick, in 1940, for his wife.
The largest section, 'The Ring as an Art Form after 1945', commences with another excellent essay, followed by rings grouped by the makers' country of origin. Britain is well represented, including many contemporary makers, as well as wonderful examples by the late Wendy Ramshaw. Brief biographies of the makers follow.
This beautifully produced volume provides surprises on every page. As well as standard materials, there are unexpected ones, including porcelain, paper, foam and breast milk. Many disrupt our expectations of form and push the boundaries of what a ring can be. This book will delight anyone interested in modern and contemporary jewellery.
Rings of the 20th and 21st Centuries: The Alice and Louis Koch Collection
Beatriz Chadour-Sampson, Arnoldsche, 2019, £68 hb
Condensed from a review by Helen Ritchie in DAS Newsletter No. 119