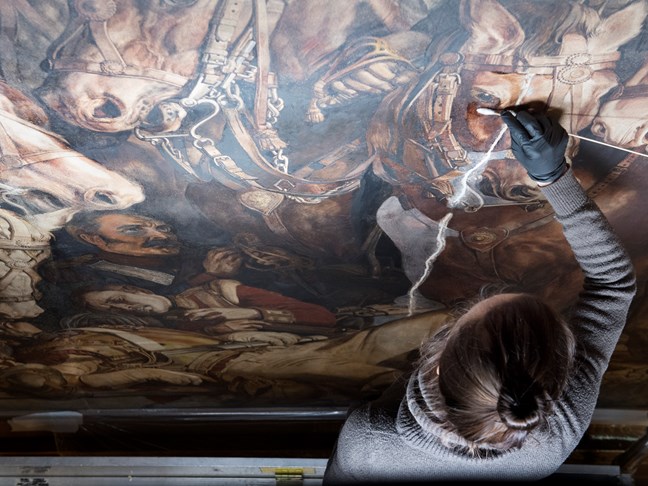 Image: A restorer working on Maclise's Waterloo mural. Photograph by Jessica Taylor, ©UK Parliament
The conservation of two historic wall paintings in the House of Lords has been shortlisted for the Museums + Heritage Conservation Project of the Year. The paintings, The Death of Nelson at the Battle of Trafalgar and The Meeting of Wellington and Blücher after the Battle of Waterloo, are by Daniel Maclise and feature the waterglass technique, which was newly imported when they were painted between 1859 and 1866.
Maclise was selected in 1858 by the Fine Arts Commission to paint a series of 18 murals in the Royal Gallery; only these two were completed. Housed in the Royal Gallery, they are two of the over 50 wall paintings in the Palace of Westminster.
The paintings have a long history of restoration of varied quality, with remains of unsuitable surface coatings, water staining, paint abrasion and poor retouching. The four-phase conservation project drew on research from Cologne University, with the Perry Lithgow Partnership and Opus Conservation providing cutting edge technology. It has been revelatory regarding Maclise's waterglass technique and can be viewed on the UK Parliament YouTube channel.
The winners of this year's competition will be announced at a virtual awards ceremony on Tuesday 22 September 2020. More information about the awards, including the other shortlisted projects, is available at https://awards.museumsandheritage.com/ .