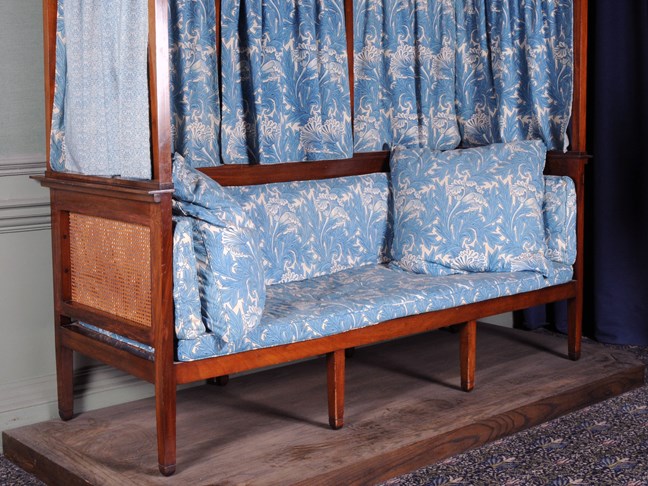 Image: Settle, by Arthur Heygate Mackmurdo for The Century Guild. ©William Morris Gallery
The DAS is delighted to announce two Collections Access Grants. One grant of £4800 is to the William Morris Gallery for an exhibition on The Century Guild. Its extensive collection of Guild material was gifted to the Gallery by the Guild's founder, Arthur Heygate Mackmurdo, on his death in 1942 and later complemented by works donated by his niece. Some items, particularly a settle with cane seating, four wallpapers and two textiles, need restoration, mounting and framing. The grant will enable this work so the objects can be displayed in the exhibition, currently scheduled for February 2021. Subsequently they will be available for researchers and loans.
Another grant of £2500, to the De Morgan Foundation, is for the conservation of two major oil on canvas cartoons for stained glass church windows by William De Morgan, who worked in stained glass from 1863 until 1872 when he left Morris & Co to set up his pottery business. The two cartoons, The Raising of Lazarus and The Blessing of Christ are significant as they are in full colour and are for windows at St. Michael's, Uttoxeter, Staffordshire. Once conserved, these cartoons will be lent to the William Morris Gallery for a display examining the work of De Morgan and Morris in the period 1863 to 1872. Conservation means they will be accessible for further research which will allow for new insights into the early career of De Morgan and cement his reputation as a brilliant designer of stained glass.
Not surprisingly, the work on these grant proposals has been delayed due to Covid-19. But once all the curators have access to their buildings and their collections these projects can proceed, and we look forward to seeing them in the future.