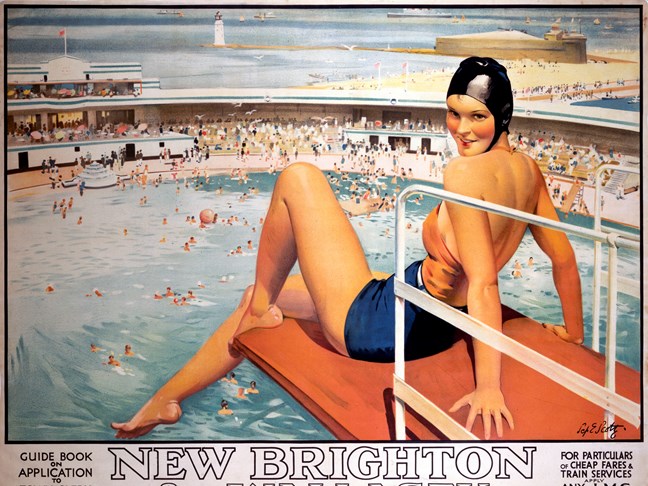 Image: New Brighton & Wallasey, 1923-1947, poster by Septimus Edwin Scott for London Midland and Scottish Railway Company. ©National Railway Museum/Science & Society Picture Library
The Sainsbury Centre at the University of East Anglia in Norwich has reopened in July with extensions of two exciting exhibitions. `Art Deco by the Sea' explores how the style shaped the modern seaside during the 1920s and 30s and is showing until 20 September.
In a new age of mass transport and tourism, new coastal resorts were built and others modernised. Through some 130 works the show celebrates iconic examples of seaside architecture, from hotels and apartment blocks, to piers, cinemas and lidos, and reveals how Art Deco design became key for pleasure, leisure and entertainment. According to curator Ghislaine Wood, Art Deco had enormous appeal for its glamour and accessibility, which still attracts audiences today.
`Art Nouveau: The Nature of Dreams' examines the origins and evolution of this sometimes controversial style, which flourished from the end of the 19th century. The role of nature and the theme of translating plants into patterns is a key focus, whether characterised as flowing, tensile line, and dramatic movement, or by organic imagery combined with an informal geometry.   
Artists and designers of glass, jewellery, posters, furniture, paintings, sculpture and textiles on display include René Lalique, Edgar Degas, Charles Rennie Mackintosh, William Morris, Alphonse Mucha and Gabriel Dante Rossetti. This show continues until 3 January, 2021.
For more details, visit the website https://sainsburycentre.ac.uk/