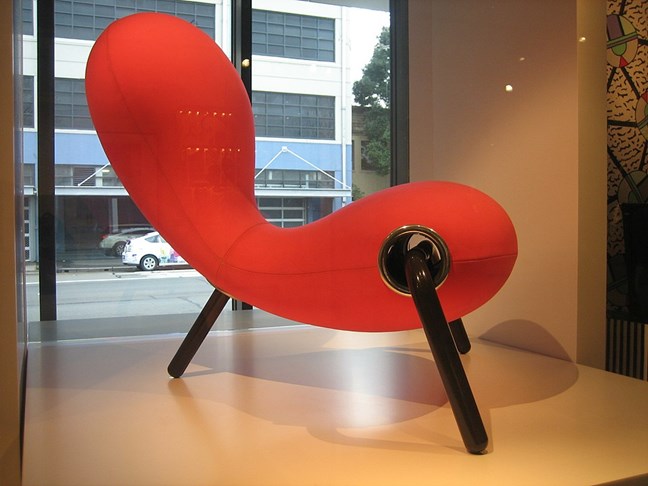 Image: Embryo, 1988, aluminium chair, neoprene seating by Marc Newson (1963-). ©Sheila Thomson - Flickr, CC BY 2.0, Link
The world has yet to emerge from the first phase of the coronavirus pandemic and Australia faces additional burdens from its recent horrific fires. Perhaps the New South Wales government will see the crisis as an opportunity to abandon its widely criticized plans to tear down the award-winning Powerhouse Museum.
A letter from the DAS Chair, in support of the growing resistance to the plans, was published in The Australian (1 May 2020). In the proposed smaller and less appropriate building over 20km from the city centre in the suburb of Parrammatta, much of the collection would remain in store. Two historic buildings in the new location would also be endangered. The costly upheaval would see the current museum site replaced by apartment buildings.
The Powerhouse has a prestigious history. In 1851 London hosted the 'Great Exhibition of the Works of Industry of all Nations', leading to the creation of the Victoria and Albert Museum and the Science Museum. Numerous World's Fairs followed, not least Sydney's 1879 Exhibition. In 1880, the Technological, Industrial and Sanitary Museum was established, a child of the V&A and the forerunner of today's Powerhouse Museum.
Fire in 1882 necessitated a new home, the Technological Museum (1893). Then in 1988, having outgrown its 19th century building, it was transformed through a visionary project to repurpose and develop the former Ultimo Power House and Tram Depot into the Powerhouse Museum.
The present institution was carefully planned to show the history of artistic and industrial endeavour in a perfect setting. Moreover, the award-winning conversion by Lionel Glendenning has proved an inspiration for the repurposing of other industrial buildings, including Gae Aulenti's Musée d'Orsay, Paris and Herzog & de Meuron's Tate Modern, London. It is to be hoped that the New South Wales government will reconsider, and that the Powerhouse will be spared.