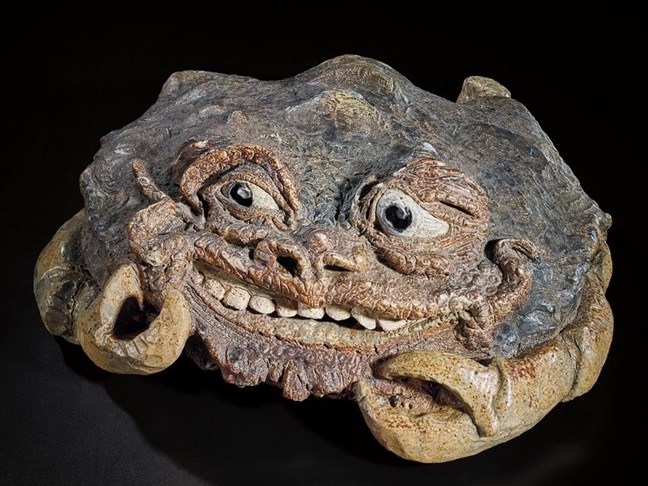 Image: The Crab, 1880, salt-glazed stoneware by Robert Wallace Martin (1843-1923). ©The Box, Plymouth
Late last year the DAS pledged, for us, an exceptional grant of £10,000 to save the export-stopped Martinware Crab for The Box, Plymouth and the nation. The DAS was the first organisation to commit funding and so was instrumental in the success of The Box's campaign which reached its goal of £217,250 in February.
The Crab was made in 1880 by Robert Wallace Martin (1843-1923), lead modeller of the Martin Brothers ceramic studio in London. The Martin Brothers are considered the first art potters in Britain. They embraced the Arts and Crafts ideals of the time, rejecting the drive for industrial mass production. Each piece was made by hand, often with a complex salt-glazed firing technique. This anthropomorphic and humorous crab is the largest and earliest surviving sculpture by RW Martin, who was trained as a sculptor and exhibited at the Royal Academy, in the UK. For many years it was in the collection of noted collector and philanthropist John Scott who recently died and who was a great supporter of the DAS.
The Box, a major new cultural and heritage attraction which embraces the former Plymouth Museum and Art Gallery, is an ideal home for this spectacular work. The Box already has a notable collection of Martinware and marine specimens, including crabs. The Crab is the new institution's first acquisition and will be prominently displayed. The Box was due to open on May 16, 2020, as part of the City's Mayflower 400 international festival (although because of Covid-19 this has now been postponed).