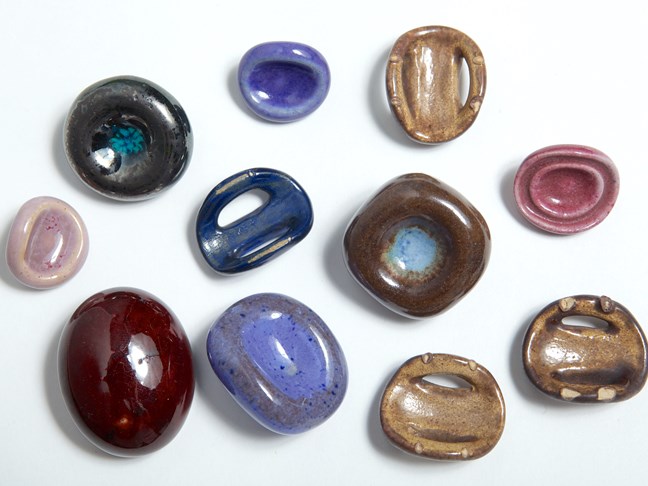 Image: Assorted glazed ceramic buttons, Lucie Rie, 1944-5. Photograph by Phil Sayer, ©York Art Gallery
The Centre of Ceramic Art York Art Gallery has extended its exhibition, Lucie Rie Ceramics and Buttons, until 3 November 2019. All the works in the exhibition are loans or gifts to the gallery from private collectors so it is a wonderful opportunity to see many buttons and vessels that have not been in the public eye before.
Although Rie had been a successful potter in Austria in the 1930s, when she arrived in London in 1938 she had to start afresh and make a living in the face of wartime austerity. Ceramic buttons provided the answer. Working with assistants such as German émigré Hans Coper she first fulfilled orders for ceramic buttons from fellow Austrian Fritz Lampl and his company Bimini. At the height of her so called `Button Factory' Rie was producing 6000 buttons a month. But by 1955 her pottery production had mainly switched to table wares and later to the now renowned bowls, bottles and vases. The exhibition contains a comprehensive selection of these, as well as hundreds of buttons.
Interest in Rie's buttons was rekindled in 1984 when Issey Miyake met Rie. She gave him a large collection of her unused buttons which he used as the basis of 1989 Autumn/Winter Collection. Another avid collector of Rie's buttons was couturier and collector Anthony Shaw. Two outfits designed by Shaw for gallerist Anita Besson in 1992 and adorned with Rie's buttons have recently been added to the exhibition.
It is definitely worth a trip to York to see this fascinating exhibition and pick up the bargain of the year - the 75-page catalogue including essays by Edmund de Waal and Simon Olding for only £5.00. For more details, visit the website https://www.centreofceramicart.org.uk/