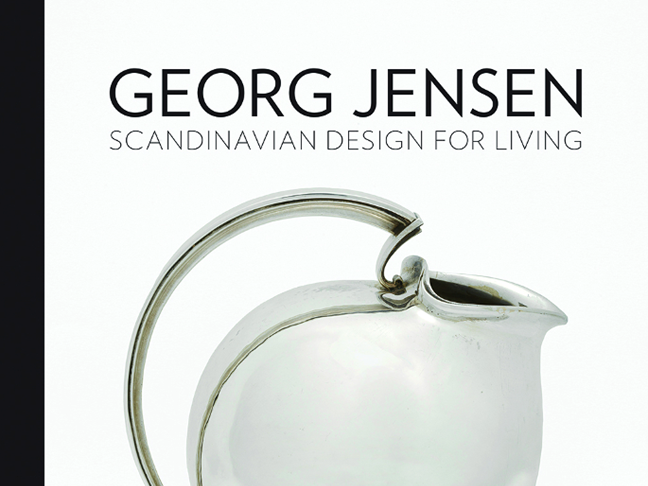 Two recent books highlight Scandinavian design very effectively. The handsome and comprehensive publication Georg Jensen: Scandinavian Design for Living complemented an exhibition at the Art Institute of Chicago. It contains essays on Jensen and the history and significance of the company he established within the context of mid-century Scandinavian design, each accompanied by large-scale colour images of Jensen objects. The volume concludes with a detailed chronology of Jensen's life and company, an object list and bibliography.
Editor Alison Fisher's introductory essay argues that Jensen's silver hollowware and household wares form an under-appreciated body of work. By assessing the company's award-winning creations for everyday use in the home in silver and stainless steel from 1904 right up to the 1990s, she seeks to assert their seminal role in the development of modern Scandinavian design, particularly during the mid-century.
Thomas Thurlstrup's history of the company begins with Georg's early training in metal-casting and goldsmithing, and his passion for producing sculpture and pottery. Thurlstrup explores the company's international success and partnerships with independent avantgarde designers such as Johan Rohde, Harald Nielsen and Sigvard Bernadotte. Maggie Taft's concluding essay discusses the connections between Jensen silver and modern Danish furniture.
Simply Danish: Silver Jewellery – 20th Century, in parallel German and English, showcases 170 items of modern Danish silver jewellery from the collection of Marion and Jörg Schwandt. This publication also focuses on the aesthetic changes of the 20th century and the desire of artists and designers to bring beauty and craftsmanship to everyday objects, which came to the fore in Danish silver jewellery. A series of short essays give a chronological overview of the development of Danish silver jewellery, followed by a catalogue and commentary on the collection. This well illustrated book ends with a useful section on the marks of early Georg Jensen silver jewellery.
Georg Jensen: Scandinavian Design for Living
Alison Fisher, ed. Yale University Press, 2018, £40 hb
Simply Danish: Silver Jewellery – 20th Century,
Jörg Schwandt, Arnoldsche Art Publishers, 2018, £45 hb
Condensed from a review by Frances Parton in DAS Newsletter No. 116