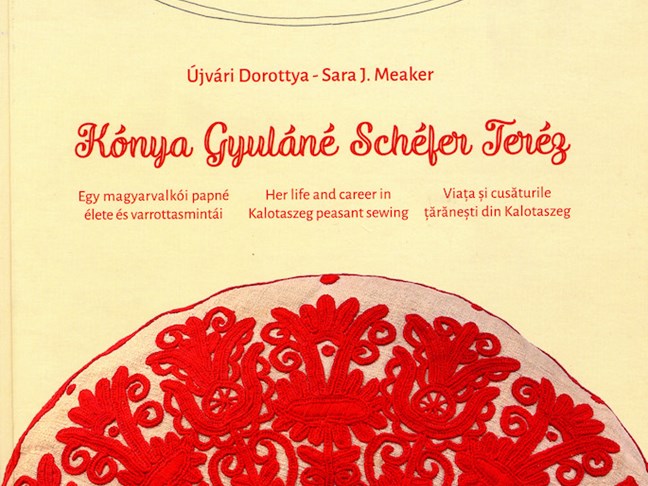 This book chronicles the life, work and legacy of one of the foremost artists of traditional stitched textile patterns in Hungarian Transylvania, Teréz Schéfer (1884–1971). (In the Hungarian tradition the surname comes first, preceded by the husband's name). It has parallel Hungarian and English text, with a shortened version in Romanian. 
The authors have reassembled Teréz's patterns, textiles, photo album, letters, even the exhibition cupboard, painted by her husband, that created a 'Kalotaszeg room' typical of the local farmers. They document Teréz's path from Calvinist minister's wife to designer, collector and promoter of irasos, a densely sewn open chain stitch. Irasos translates as 'written' because the pattern is initially written or drawn on the fabric with a goose-feather quill. She also practised cross stitch, and Hardanger (whitework with cut and drawn threads).
At the end of the First World War, Transylvania was transferred to Romania and Schéfer threw herself into improving people's lives, encouraging cottage industry. By 1928 she had formed her own collection of patterns, redrawn from surviving historic textiles. She also created original designs.
During the 1930s Schéfer ensured that local work was prominent across Hungary and Romania and obtained orders from prominent figures. In 1940 northern Transylvania returned to Hungary, leaving Teréz's village stranded in Romanian territory. The house was repeatedly searched and in 1943, Terez hid her precious patterns, 20 years of work, in the church crypt. They survived, for this riveting tale to be told.
Illustrations include a selection of patterns, the photo album of exhibitions, and, in colour, the embroidery itself. Essential reading for textile and embroidery practitioners and historians, this book is also a history of Transylvania in the 20th century and of those whose lives were uprooted by war and the political shifts continuing in Europe today.
Kónya Gyuláné Schéfer Teréz and her Peasant Sewing Collection
Dorottya Újvári and Sara J. Meaker, Asociaţia Târnaţ Kalotaszeg Durabil, Cluj-Napoca, 2021, available from https://ideakonyvter.ro/  approx. £15 hb 
Condensed from a review by Judy Rudoe in DAS Newsletter No. 126