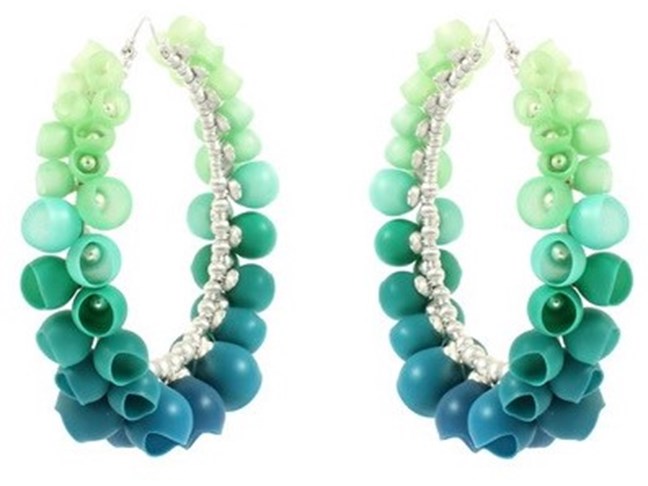 Image: Green Cluster Earrings by Jenny Llewellyn, acquired by Leeds Museums and Galleries with the help of the DAS
The Decorative Arts Society recently awarded a museums acquisition grant of £800 to Leeds Museums and Galleries for three pieces of jewellery by Jenny Llewellyn. She was brought up in Leeds and completed her foundation course in art and design at Leeds College of Art (now Leeds Arts University) before going to Middlesex University to complete her degree in jewellery. Llewellyn is known for her use of brightly coloured silicone and has won numerous awards for her work.
The three distinctive works, a large-scale blue necklace, a pink brooch and a pair of green cluster earrings, were created specifically for the exhibition `Fashion Forward', held at Lotherton Hall. The inclusion of jewellery in the exhibition illustrated its interrelationship with fashion and fashion design, a concept that Leeds Museums and Galleries, with its noted Dress and Textile collection is keen to promote. The necklace is the largest work that Llewellyn has created to date and has incredible impact but is still surprisingly lightweight given her use of silicone. The society has given this award in honour of Muriel Wilson, a former DAS trustee who passed away recently and who was a passionate advocate for, and collector of, contemporary jewellery.