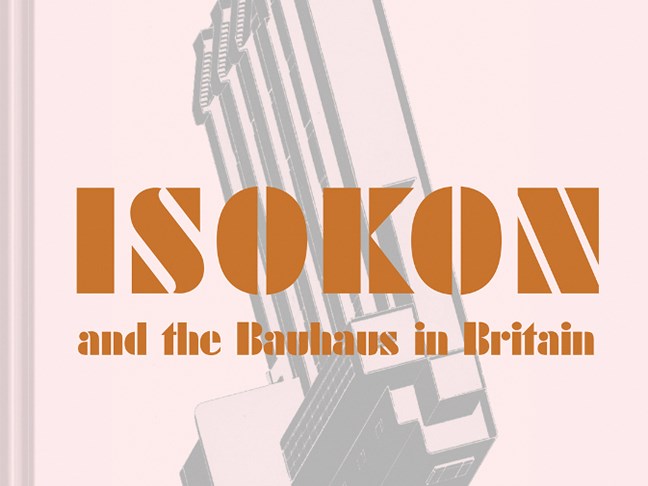 From the British perspective, the two titles under review, along with Fiona MacCarthy's biography of Walter Gropius, are the most noteworthy of the flood of books published to celebrate the 100th anniversary of the founding of the Bauhaus.
The first is a straightforward, pleasingly designed and illustrated history of the Isokon companies and personnel. Most important were Jack and Molly Pritchard who, in 1930, with Canadian architect Wells Coates, set up Pritchard & Coates as a firm to make 'dwellings for modern people'. For marketing purposes they renamed their firm ISOCON (for Isometric Unit Construction), then renamed it Isokon in 1931.
Their original idea of building single-family houses was altered to building a block of small, 'minimum' flats. This they realised in 1934 with the completion of Lawn Road Flats in Hampstead (now inappropriately referred to as the Isokon Building or, worse, The Isokon). 1935 saw the arrival of Bauhaus founder Walter Gropius and the founding of the Isokon Furniture Company by the Pritchards (who fell out with Coates). Former Bauhaus colleagues Laszló Moholy-Nagy and Marcel Breuer – like Gropius seeking new lives outside Nazi Germany – also arrived and, in 1936, Breuer joined Jack Pritchard and Gropius as a designer for the tiny furniture company, while Moholy-Nagy provided graphic designs.
The book covers the Isokon enterprise in more detail than the Bauhaus in Britain. Having said that, it is a well researched (if inconsistently footnoted) story with an especially interesting cast of characters, including numerous Soviet spies who lived at or visited Lawn Road and tenants Agatha Christie and Egon Riss (émigré designer of the Penguin Donkey bookcase.
Alan Powers's book is more wide ranging, often provocative and thoughtfully written. He usefully reminds us of the positive interactions between the German and British art and design communities as early as 1906. Powers writes in detail on the experiences of Bauhäusler in Britain, including separate chapters on Gropius, Breuer and Moholy-Nagy, as well as on lesser-known figures who attended the school and came to Britain. On the British side he focuses on designers, writers, business people and design organisations.
For all its considerable merits, his book reads at times as if it has been drastically cut in length: the penultimate chapter on the Bauhaus in America is indeed the mere postscript the author admits it is; and a section on the German Ulm school sits uncomfortably in a book that focuses on Britain. On his central topic, however, Powers is excellent.
Isokon and the Bauhaus in Britain
Leyla Daybelge & Magnus Englund, Batsford, 2019, £25 hb
Bauhaus Goes West: Modern Art and Design in Britain and America
Alan Powers, Thames & Hudson, 2019, £24.95 hb
Condensed from a review by Christopher Wilk in DAS Newsletter No. 117