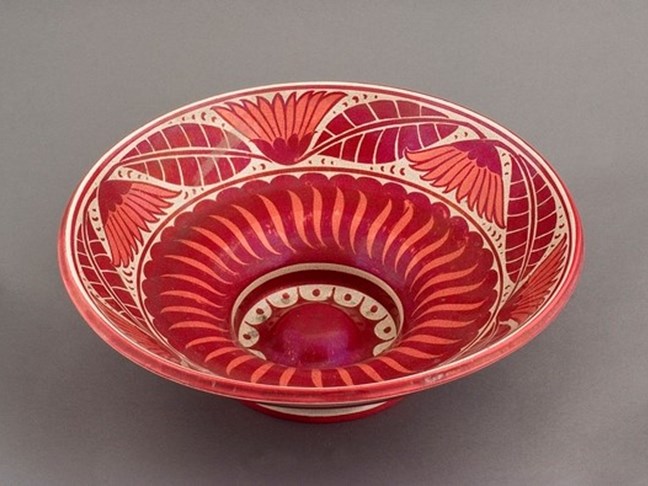 Image: Copper lustre bowl, 1925, by Fred Passenger for Bushey Heath Pottery. ©Leighton House Museum
The DAS is delighted to announce that it has awarded a £5000 Collections Access Grant to Bushey Museum and Art Gallery for a new case and interpretative panels. These will allow a permanent display of its Bushey Heath Pottery collection.
The pottery lasted around 10 years. It was founded in the early 1920s by Ida Perrin (1857-1953), an artist and collector of Persian and Moorish ceramics, to continue making pottery to William De Morgan's designs. She employed Frederick Passenger (1864-1935), De Morgan's longest serving ceramic decorator, at the pottery based in the grounds of her country home in Bushey.
Perrin lived in Holland Park and was an admirer of Lord Leighton. She paid for a new gallery at Leighton House and gifted it some of her collection of De Morgan and Bushey Heath Pottery. But in 2018 Leighton House wanted to find more appropriate 'homes' for this collection which it was unable to show. Bushey Museum and Art Gallery received the major part of Leighton House's holding of Bushey Heath Pottery. Now, with 50 works from the pottery in its collection the museum is able to tell the story of this interesting enterprise, creative arts locally and the place of Bushey within the wider Arts and Crafts movement.