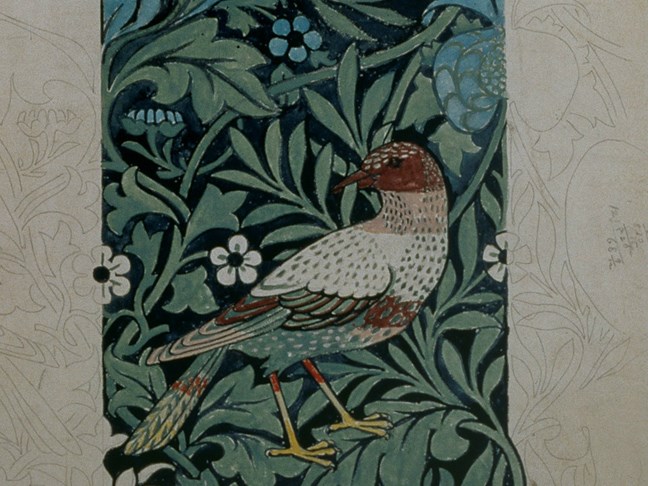 Image: Design for Bird woven textile, William Morris, 1878, © William Morris Society
Kelmscott House in Hammersmith was the beloved home of Victorian designer, poet, writer and socialist William Morris and his family for the last 18 years of his life. In the first exhibition of its kind, The William Morris Society conveys the house's atmosphere: full of creative energy and artistic activity.
'The dear warp and weft at Hammersmith': A History of Kelmscott House features original Morris & Co. designs, textiles and wallpapers, complemented by photographic prints. Hammersmith residents who inhabited the house before and after Morris are also highlighted, including poet and novelist George MacDonald, Sir Francis Ronalds who invented the electric telegraph and the actress Athene Seyler.
It was here that Morris began carpet weaving, wove his first tapestry and continued his innovating approach to design. When away from the house, he longed to return to these practical crafts, writing 'Lord bless us how nice it will be when I can get back to my little patterns and dyeing and the dear warp and weft at Hammersmith' (referencing the weaving terms warp and weft).
Many well-known Morris & Co. designs are associated with the house. In 1878 Morris designed the Bird woven wool textile to hang in the drawing room of the property and Peacock and Dragon curtains adorned the room. Pimpernel wallpaper hung in the dining room and Trellis in Morris's ground floor bedroom. The house is associated with other significant endeavours: Morris established the Hammersmith branch of the Socialist League in the Coach House of the property and in 1891 he set up the Kelmscott Press, his private printing press, a few doors away.
The exhibition continues until 26 October; entry is free. For more details, visit the website  https://williammorrissociety.org/