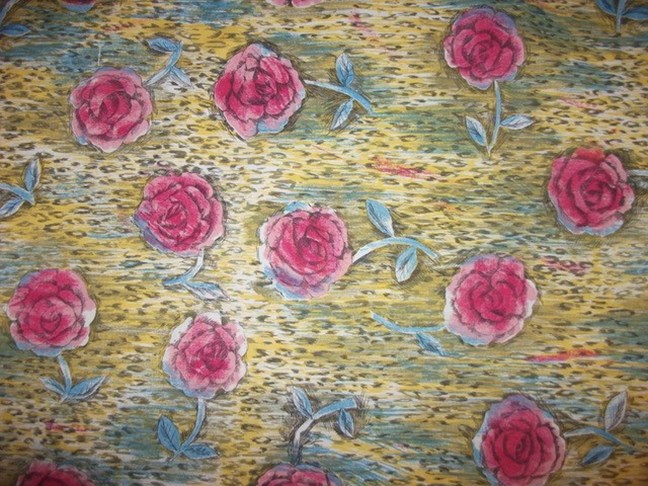 Image: Printed cotton dress fabric by unknown designer with rose and 'leopard-spot' pattern, c1950s, British. 
The Decorative Arts Society is delighted to announce that it has awarded a research travel grant of £1000 to independent scholar Ngozi Ikoku. She will pursue a project exploring the history and enduring appeal of animal skins and their patterns in textiles and dress from the 18th century to the present day.
Ikoku will investigate the social, cultural, political and technical side of the subject as well as the aesthetic of the textiles and dress and the fickleness of fashion. Her research will analyse the patronage, production and consumption of the design and explore the rise of faux animal skin patterns within the wider context of animal rights issues and the protection of endangered species.
The DAS grant will allow Ikoku to study identified artefacts and related documentation from 1850 onwards such as the faux ermine curtains and archival material from the Rex Whistler room at Mottisfont Abbey, Hampshire, dress and accessories at the Fashion Museum in Bath, and the rich collections at the V&A. She has also been awarded a Pasold Research Project Grant to support her research into this topic at other collections in Scotland, Liverpool, Chichester and London.
In addition to research travel grants, the DAS also helps decorative arts professionals, researchers and postgraduate students to participate in its study tours. A bursary is currently available for the forthcoming tour to Sicily in March 2020.