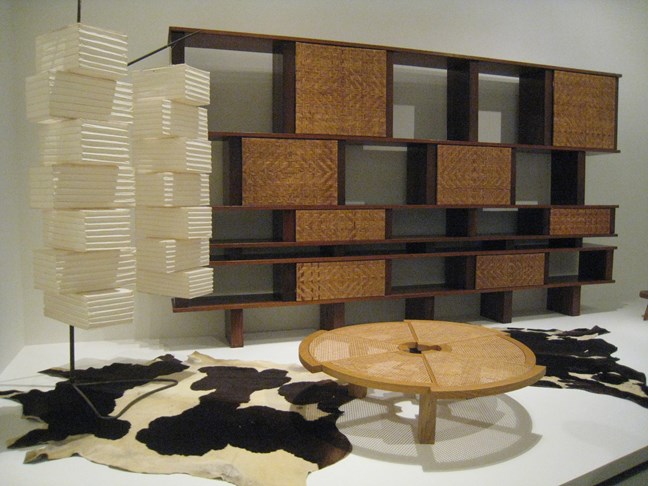 Image: Furniture designed by Charlotte Perriand and Isamu Noguchi in the 1950s and 1960s for the Rio apartment of Perriand's second husband Jacques Martin.
The current exhibition at Fondation Louis Vuitton in Paris pays tribute to a leading figure of 20th Century design, Charlotte Perriand. Perriand (1903-1999) was an architect and interior designer, who contributed to the definition of a new `art de vivre'. Her creations foreshadowed current conversations about the roles of women and nature in our society. She was inspired by the world's most diverse cultures, from Asia (particularly Japan) to Latin America, notably Brazil.
Research into and interest in furniture design led Perriand to collaborate with Le Corbusier and Pierre Jeanneret in the 1920s and 1930s. They developed a series of tubular steel chairs, which were hailed as icons of the machine age. Later, she also collaborated with Jean Prouvé and Fernand Léger.
This large-scale display of her work to mark the 20th anniversary of her death explores the links between art, architecture and design. Visitors engage directly with a world of modernity via reconstructions that include works of art chosen by Perriand, embodying her vision of a `synthesis of the arts'. The interiors of the Salon d'Automne (1929) are on show, in addition to furniture for the Maison du Jeune Homme (1935), the Proposition d'un Synthèse d'Art (1955) and other pieces designed in Asia. The futuristic ski hut Refuge Tonneau (1938) has also been loaned.
The exhibition is based in Frank Gehry's `glass vessel dedicated to culture' in the Bois de Boulogne, opened in October 2014. It continues until 24 February 2020. For more details, visit the website https://www.fondationlouisvuitton.fr/en/exhibitions/exhibition/charlotte-perriand.html