2019 DAS STUDY TOUR BURSARY: NORTHERN GERMANY
Study tour to Hagen, Darmstadt, Karlsruhe and Stuttgart, 14th to 19th May, 2019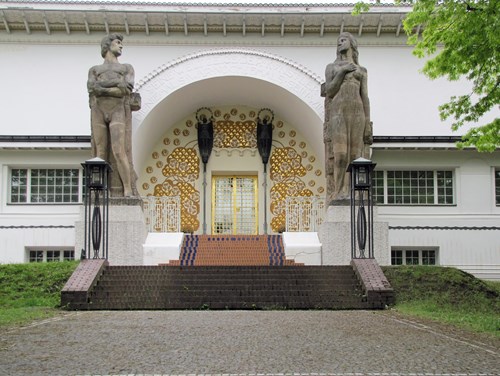 Image: Entrance to the Ernst Ludwig House, Mathildenhöhe, Darmstadt
This study tour, led by Dr Leon Lock, will focus on work from Jugendstil and International Modernist periods. It starts in Hagen, the home of noted art and architecture patron Karl Ernst Osthaus, who commissioned designs from Henry van de Velde, Richard Riemerschmid, Peter Behrens and Walter Gropius. In Darmstadt the focus is on the artists' colony founded by Ernst Ludwig, Grand Duke of Hesse and now a Unesco World Heritage Site. The first exhibition held in 1901 was entitled 'A Document of German Life'. The exhibits were the colony's individual houses and studios including the common atelier, designed by Joseph Maria Olbrich.  In Karlsruhe we will visit the Majolica Museum and the Badisches Landes Museum. The programme finishes in Stuttgart where the Weisenhof Siedlung, a housing estate built for the 1927 Werkbund Exhibition under the direction of Mies van der Rohe, became a showcase of what later became known as the International style of modern architecture.
The award is intended to cover a substantial proportion of the costs of the study visit including accommodation during the visit and travel to and from Germany, but the successful applicant may need to find some limited incidental expenditure for meals not provided.
If awarded a grant by the Society the applicant would be expected to provide an article for the DAS Newsletter describing the trip, and a longer record of events which is made available to participants. They would also need to take on a personal membership of the DAS for a year (discounted for members of the Society of Decorative Arts Curators).
Deadline for applications: 1st January 2019
How to Apply:  Applicants should provide a CV and a statement specifying how attendance on the visit would develop their expertise and be useful in their work.  These should be sent to Sarah Nichols, Chair of DAS Grants Sub-Committee at chairdas@gmail.com who is happy to answer any queries.
See award history for previous awardees.